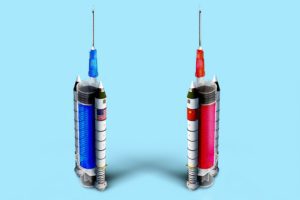 Things you need to know:
SNOW? It was a blizzard of activity!
Fed Chair Jay Powell promises to keep rates low for 40 more months
He does not announce any new stimulus plans and the algo's are not happy
Trump announces a vaccine by end of Oct?
CDC Director Redfield says 'no way' – Oh boy…
Futures are lower and Global Markets all in risk-off mode
Try the Puttanesca! It's perfect for today…
LET IT SNOW!!!!  ( A quick lesson on lunacy…)
"Oh, the weather outside is frightful, But the fire is so delightful, And since we've no place to go
Let it snow, let it snow, let it snow…"  A song that is synonymous with Christmas – it was written in 1945 and originally recorded by Vaughn Monroe – and has been remade so many times by other artists – but the one that sticks out in everyone's mind is the 1950 version sung by none other than Frankie (Sinatra).
Well that was until yesterday… you see – there was a SNOW storm on Wall St at the NYSE yesterday…
Snowflake – yes is the name of a company… contrary to what you may think… (SNOW) – is the latest in 'data warehousing' – the Bloomberg description reads as follows:
"Snowflake Inc provides software solutions.  The company develops database architecture, data warehouse, query optimization and parallelization solutions.  Snowflake serves customers worldwide."
OK – now that we got that under control – the company went IPO (Initial Public Offering) yesterday – and boy was there a storm… Shares skyrocketed on their opening day – feeding the frenzy of enthusiasm we have been seeing recently. But I have to say – it harks back to the 1999 dot com bubble – let me explain…  
You see – the investment bankers – led by Goldman and joined by Morgan Stanley, JP Morgan and Allen & Company took company management on the road – in what is called a 'roadshow' – where company management gets to tell their story to the big institutions in the country (and sometimes the world). It is their job to set up meetings with potential institutional investors to raise awareness of this company (at the same time the investment bankers are releasing bits of news to the retail public creating even more demand that has to wait until 'opening day' before they can participate)… It is the company's job to provide the information to these investors that will create the demand that will help to 'build the book in interest'… and create the demand they did.
Now yes – I guess 'data warehousing' is something we need – considering that the world creates more data every day – in fact it will blow your mind… We create 2.5 quintillion* bytes of data each day and that is only sure to grow with the accelerating growth of the "Internet of Things (IoT)." To put it in some perspective – every time you search for something on the internet you create data and that data is valuable (in more ways than you realize…)
(* A quintillion is a 1 with 18 zero's in short scale or a 1 with 30 zero's in long scale – trust me – I'm no mathematician – I searched for that answer on the internet – and just created another byte or two of data that is sure to be manipulated and twisted and then sold to someone that thinks I need something else. Can you imagine what happened when I searched for 'enlarged prostate') 
So, the roadshow had gone exceedingly well, institutions expressed demand for the stock at a range of prices – so they might say "At $50/sh we'll buy 1 mil shares, at $60/sh we'll by 750k shares at $80/sh we'll buy 500k shares and so on and so forth… this goes on until everyone gets to express their interest in the stock… thus it 'builds the book of interest'… the investment bankers then lay it all out on a spread sheet to see where demand equals supply – and since the company was only selling 28 million shares (a small deal)– it was not a difficult process… there was PLENTY of demand – in fact there was so much demand that the initial $70/$80 range was pushed up to $120/$130 range… Which should have been the first clue that this was going to be a 'hot stock'… so the company should either increase the offering size or re-think the price again…
Either way, the big investment banks who get paid to represent their client and get the best price apparently underestimated the real demand…or they didn't because they wanted to see a 'SNOW storm' of activity on Wall St… And so they did… the stock was priced at $120 share on Tuesday night – and less than 16 hrs later – the stock opened for trading at $240/sh – DOUBLE WHAT THE INVESTMENT BANKERS said it was worth only 16 hrs prior (and they haven't earned one dime yet…)… which means a couple of things… 1. the bankers were woefully informed and had no idea of the real demand and 2. The sellers of the stock got hosed because they were told that the value of their stock was $120 when clearly the value of their stock was much more – leaving them feeling a bit 'prostituted' (note my recipe of the day)… Now take that any way you want – but for those of us that were around in the dot com bubble – whenever an investment bank brought a 'dot com' company public – they would create all this hype (and none of the companies earned any money at all… capisce?)  – they would tell the company that they were worth X and then on IPO day – the stock would trade at 10x's X – it was ridiculous really… but everyone patted themselves on the backs – telling themselves how great they were… and then it all ended… badly… but that's another story… I'm just sayin'… the IPO unicorn market appears to be getting a bit overdone… and the frenzy feels a bit like history repeating itself… I'm just sayin'…
Before it was over – the stock traded as high as $319/sh (I would love to know which Robinhood trader paid that price) and as low as $213.11/sh (most likely the same Robinhood trader selling his stock) before closing at $253.93 share… I mean you can't make this up… and this morning at 5 am – the stock is quoted at $241/$243 and futures markets are suggesting a lower open… Asian markets closed down ~1% and all European markets are off 0.75% – 1% as the day dawns… And if US futures continue to weaken – then expect the quote in SNOW to change as well… Oh boy – it's great to be alive!
Now onto yesterday's market action…
So – as expected the FED did nothing… they left rates unchanged and promised to keep them unchanged for another 40 months – that was new news… (December 2023 at the earliest)… they revised their 2020 GDP forecast from -6.7% to -3.7% (an improvement) and investors are still not happy! I mean – you can't make this up either… the FED pledged to continue to 'feed the beast' and support the economic recovery (read markets), they reset the bar even higher before they will even consider thinking about raising rates – but some in the industry expected and wanted MORE. They wanted to hear about a new program on top of what the FED is already doing as if what the FED is doing is not enough… It's ridiculous really… but that's what you get when everyone is used to 'getting a trophy'… they don't know how to deal with it… 'Mommy – why didn't I get a trophy?'… Whatever!
By the end of the day the Dow gained 36 pts while the S&P lost 15 pts, the Nasdaq lost 140 pts and the Russell added 14 pts… as the broader market loses some steam… Hey! Wake up… it's not so bad… the FED has not abandoned you and the gov't is working hard to right the ship… so much so that yesterday the WH announced that maybe they are willing to go back to the table with the Dems and hammer out a new stimulus deal… although son-in-law Jared said not so fast – any deal could still be a ways off…
In addition – yesterday afternoon – Trump takes to the airwaves and announces that we should have a vaccine available 'pretty soon' suggesting that maybe the end of October… and that he has put Gustave F Perna a 4 star general and military logistics expert in charge of the process… the process of overseeing the manufacture, delivery and vaccination protocol. At the same time – CDC Director Robby Redfield contradicted the President saying that a vaccine most likely will not be available until 3Q 2021… (that did not make Donny very happy) and you can imagine how CNN had a field day with that…
At risk population will be the first to get vaccinated and then the rest of the county can fall in line… if they want… now if they choose not to get vaccinated – that's fine… but it is your choice… Remember – while some will have you believe that Donny made this vaccine in the basement of the WH – the fact is that Pfizer, JNJ, Moderna, Regeneron and a host of other world class health care/bio-tech companies have been working around the clock to deliver a vaccine… and if the FDA, NIH & CDC give their blessing then it should be all good… but maybe not… and that is your choice… Next…
Yesterday's eco data was a bit underwhelming… Advance retail sales that were expected to be +1% came in at +0.6%, ex Autos at +0.7%. Mortgage apps fell by 2.5% while business inventories were in line at +0.1%. Today we will get Initial Jobless Claims of 850k, Cont Claims of 13 mil, Housing Starts exp of -0.9%, Building Permits of +2% and the Philly Fed Survey – exp of 15.
As I said – global markets ended the day lower (Asia) or are trading lower right now (Europe) and US futures are pointing lower as well at 5:45 am… Dow futures are down 257 pts or 0.95%, S&P's are down 38 pts or 1.12%, Nasdaq futures are down 124 pts or 1.1% and the Russell is lower by 22 pts or 1.4%. Should this be a surprise to anyone? Not really… I have been saying that the market bounced off the recent selloff too fast and that 3400/3425 should be a top for now… yesterday we tested as high as 3428 before failing and closing at 3385… and this morning with futures lower – we can expect to see the S&P potentially challenge trendline support again… (not necessarily today but maybe tomorrow) which is 3330… Look – Fed chair Jay Powell did not disappoint in my opinion… but when the markets are used to drinking the Kool Aid… the trader types and algo's throw a hissy fit… and for the longer term trader – this proves to be just another opportunity…
Oil traded up and thru $40 yesterday and is now trading at $40 this morning… Again – as we discussed – we remain within the trendline bands… $38.30/$41.30… and while there is lots of news about falling demand and increasing supplies – the fact is that demand is not going anywhere… and OPEC is meeting this morning to decide what to do about production… do they just enforce current levels or do they consider add'l cuts to help support prices? The fast money suggests that OPEC will not recommend further cuts – despite what looks like weaker demand in the months ahead… yet – all of the news stories for the past two weeks has been about weaker demand blah blah blah and oil has done nothing but go up… it is up 8% off the September 8th low… If the outlook was really bad – oil should have gone down, no?
This morning the S&P is at 3385 after testing 3428 yesterday… and with S&P futures weaker, we can expect it to open at about 3350 unless something changes in the next 3 hours… European markets all remain lower by about 0.75% as investors there digest the latest FED move and await the BoE (Bank of England) policy statement… Expectations are for the 'status quo, no change'.  
Remember what I said – a the swift selloff that we saw, and then the swift recovery as if nothing had happened can be met with another swift selloff again… and the fact that Trump announced a possible vaccine by end of October and the market is NOT surging speaks volumes about what the market really thinks of that idea… so sit tight… and hope that a test of trendline support (3330) holds… if not then a test of 3250 ish… would be in order… so hold on… sit tight – now is the time to: Wake up, Stock up, and Eat up…
Take good care –
Kenneth Polcari
Chief Market Strategist, Consultant
kpolcari@slatestone.com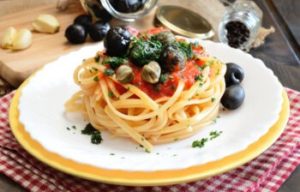 Linguine Puttanesca
Love, love, love this dish… and it seems appropriate
The word – Puttanesca literally translates into "in the style of the prostitute" (where the Italian word puttana means "lady of the evening").
As many of you may know this dish originated in Naples and is today a staple of the Neapolitan household. It is made from tomatoes, black olives (or Kalamata Olives), capers, anchovies, onions, garlic, oregano and parsley. It is easy to make and has an interesting history.
So how did it become so popular? As you might imagine – legend has a number of explanations…
The intense aroma would lure men from the street into the local brothel where the prostitutes would be cooking the sauce to lure the patrons.
The prostitutes made it for themselves to keep the interruption of their business to a minimum.
And in a twist – it was a favorite of married women who wished to limit their time in the kitchen so that they may visit their lovers.
Whatever its origin – it is a great dish – that is easy to prepare – is spicy, tangy and vibrant – an appropriate description of the mkt today…
Start with 3 crushed garlic cloves sautéed in olive oil about 3 / 4 mins…do not let it burn… next add a diced white onion and diced/minced anchovy filets and sauté for another 5 / 8 mins. as they cook, they melt away. Add one can – 28 oz – of kitchen ready crushed tomatoes… not puree – Crushed. Add about 1/4 of a can of water – Let simmer for 10 mins or so. Next add capers, oregano, pepper, chopped Italian parsley, and rough chopped pitted Kalamata olives or pitted black olives – whichever you prefer – but do not mix… It is one or the other. No need to add salt as the anchovies are salty enough. If you like more bite – you can add red pepper flakes at this point… cover and let simmer.
In the meantime – bring a pot of salted water to a rolling boil and add the Linguine or spaghetti. Do not use Cappellini as it is to thin and it clumps up etc… Let boil for 8 mins or until aldente. Remove and drain – keeping a mugful of the pasta water. Add the pasta to the sauté pan with the Puttanesca sauce and heat and stir until well coated and fragrant. Serve immediately onto warmed plates offering up grated Parmegiana cheese on the side.
Buon Appetito.