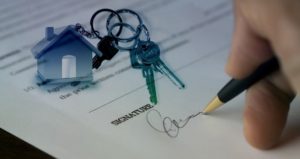 Things you need to know:
GILD/BA and Housing set the markets ablaze yesterday – virus who?
But that was yesterday…today it's all about the virus again – NJ to go in reverse
China passes controversial HK bill – tells the US to stay out of it
China also has a new pig flu virus that is raising eyebrows in the scientific community
It is end of qtr and half year… the Holidays are coming
Try the Sea Bass
So Gilead (GILD) surprises the markets – but first let's consider what was happening yesterday morning in the pre-dawn hours… Asian markets had closed lower, European markets were lower and US futures were wobbling around the unchanged line… the negative mood from Friday was hanging over the markets. We learned that virus cases exploded over the weekend, every headline had two numbers – the papers reported more than 10 million people globally have been exposed to the virus and 500,000 were dead – Texas once again closed down bars and restaurants, Los Angeles getting whacked following suit, while Florida shut down the beaches along the east coast – the mood was mixed at best… as the algos tried to figure out whether they should punish the markets for another day or not… and then it happened… at 7:49 am – the headline hits the tape… Gilead sciences was going to begin charging for Remdesivir starting on July 1st… And this changed the narrative almost as fast as you could blink your eyes… Now recall – up to this point – GILD had been giving the drug away for FREE to hospitals in an attempt to build a database… was Remdesivir a 'miracle drug' or not?  Did it help in the recovery of patients? Could it be the answer? While the results were mixed and challenged along the way – in the end – the data apparently shows that it did help severely affected patients recover… so now it was time for GILD to cash in!
The idea that Gilead was going to charge for this drug that is NOT formally FDA  approved as a 'treatment' for Covid-19 suddenly changed the whole morning and day… The very thought that they chose to charge gov'ts around the world $2,340 for a 5 day treatment per patient and then charge commercially insured US citizens $3,120 for the same protocol lit the place on fire and then the CEO Danny O'Day got on TV and tried to justify why Americans would be paying more than anyone else around the world for the same treatment… (but that's another story)… it was as if charging for this drug suddenly gave it legitimacy, sending the message that maybe this nightmare would be over…
US futures shot higher in the moments after the news hit the tape (helped by some other news – see below)… Again – let's be clear – while Remdesivir has been shown to help severely affected people – it is not an FDA approved method of treatment just yet… but so what! Let's get this party started… and so it was… Ba Ba Boooommm! The market shot higher, then came under pressure in the moments after the opening only to find support and boom – it was off to the races… By the end of the day – the Dow added 580 pts or 2.3%, the S&P tested 3000 (just a round number and not a trendline) suddenly was filled with life and shot up 44 pts or 1.47%. The Nasdaq added 116 pts or 1.2% and the Russell outperformed adding 42 pts or 3.08%.
In addition – there were some other tidbits yesterday that contributed to the risk on mood – Quarter-end window dressing (expect more of that today) – BA made history as they suffered a loss of a big order from Norwegian airlines (bearish), but then made the first 2 of 4 re-certification test flights of the 737 MAX – taking off from Boeing field in Seattle – flying around, testing the MCAS system, recording data and then landing w/out crashing (bullish) – all very exciting for BA as they now expect to have this plane back in the air generating revenues by September. And then at 10 am – Pending Home Sales hit the tape… now recall the expectation was for an increase of 19.3%… and the report showed an increase of 44.3% sending housing stocks, basic material stocks, building stocks, appliance stocks, furniture stocks all higher! Just think of all the toilets, ovens, stoves, refrigerators, dishwashers, washers and dryers, sinks, wine coolers, microwaves, AC units, heating units, never mind all of the wire and piping (think copper and plastics), concrete, wall board, flooring, plywood, 2×4's and 4×8's, roof shingles, siding, bricks, mortar, joint compound, paint and wall paper we're gonna need! OMG – it's crazy!
And how are we going to power all of the tools to build these houses, never mind the energy to run these houses… (think both solar and oil). And if they build these houses with garages – then think of the automobiles, motorcycles, bicycles, scooters, toys, tools and shelving that we're gonna need. Never mind all of the fees paid to building dept's, for permits, the creation of a new taxable housing base and the money paid to the construction workers who are actually going to build all of these 'units'. I mean, once you start connecting the dots – you ask – How could there ever be another down day on Wall St?
It just goes to show you once again that it's all in the headlines… and yesterday morning while the headlines appeared to be negative at 5 am – they suddenly turned positive at 8 am… allowing everyone to forget about the 10 million infected people, forget about the 500,000 deaths, forget about the possible re-closure of American cities, forget about the 'explosion' in new cases – which some describe as the second wave and focus on the idea that we are getting closer to a treatment and economic recovery! And then right after the opening – Lonnie Musk (of TESLA fame) questions the veracity of the covid19 test itself – laying out the argument that the test produces more false positives (~50%)  than many are care to admit, which is why he says that there is the complete disconnect between the rise in cases and the NOT so much rise in deaths… and yes you can argue that we have more experience (and we have Remdesivir) – which we do and you can argue that more people are asymptomatic and only suffering mild cases… as the CDC tells us… but it is an interesting argument – and I haven't heard anyone from the scientific community address it… I mean, is it possible that 100% of the tests administered can produce a true positive 100% of the time? Come on – be honest!!! I'm not saying that it missed 50% of the time – but could it miss 40% of the time?  So the 42,000 new cases seen over the weekend might really be 25,200 at 60% – a stat that would change the conversation dramatically… but let's not get caught up in details… the fact is that the virus is real so we need to find a treatment and a vaccine… and when that really happens – it'll be like listening to 'Kool and the Gang' sing Celebrate Good Times – Come on! "There's a party goin' on right here, a celebration to last throughout the year…"  I mean you get it, right?
By the end of the day – every sector was registering gains… Industrials leading the way out – XLI +3.3%, Basic Materials +2.08%, Consumer Discretionary (think all the stuff for the house) +1.9%, Consumer Staples (because you have to buy toothpaste and food for all of these houses) +1.9%, Communications – XLC + 1.8%, Financials – XLF +1.1% (think mortgages and banking), Energy – XLE + 1.34% (do I need to go there?), Utilities – XLU + 1.88% (think water and electricity to power all of these new houses) and Tech – XLK + 1.09%.  I mean – does it get any better?
Ok – back to reality… Overnight in China – new eco data suggests that it's all good… China manufacturing PMI came in at 50.9 and you know what that means… 50 is the neutral line – so anything above 50 suggests expansion! Expansion is good and so stocks followed the US and rose. However – data in Japan showed that Industrial Production in that country fell 8.4% m/m – which is a negative, but they shoved that under the rug. Now at the same time there was no talk of surging corona virus rates (but there is another one brewing) but there was talk of how China passed that new controversial law that will undermine Hong Kong autonomy on the 23rd anniversary of the UK handover to China (July 1st, 1997). Few details were available but Chinese President Xi Xi – tells us that the legislation is aimed at 'prohibiting secession, subversion of state power and terrorism activities and foreign interference (that smells like he is telling the US to mind our own business – nothing to see here, go home). On a new note – maybe Xi Xi should figure out what is going on in his country… as another strain of the swine flu virus in pigs is also infecting humans suggesting that this new pathogen has the ability to reach pandemic proportions in the coming months as well… so not sure about you, but should we consider blockading China from the rest of the world? I mean, what is going on in that country?
By the end of the day – Japan added 1.3%, Hong Kong was up 0.52%, China +1.3% and the ASX is ahead by 1.4%.
In Europe – markets are mixed with a downside bias… and the headline today?
"European Markets Whipsaw as Investors React to Chinese Data and Corona Virus Concerns" 
And Tedros Adhanom Ghebreyesus – Director General of the WHO (World Health Org) reminded us late Monday that "the pandemic is still accelerating and without more collaborative global intervention, the worst is yet to come." This – from a guy who refused to recognize it as a pandemic until it was too late!
Royal Dutch Shell hits the tape announcing that they are writing down the value of their assets by $22 billion dollars – in a move to reset… after revising down their long-term outlook for oil and gas prices… I love how these companies just do this… they 'write off billions of dollars' just like that, they wipe the slate clean and get to start over with no penalties… what would that be like if we could just call up the bank and say 'we're writing off the value of our house' because we revised our outlook for stock market returns, tax rates and job security? At 6:45 am – the FTSE -0.47%, CAC 40 +0.07%, DAX + 0.3%, EUROSTOXX +0.03%, SPAIN -0.4% and ITALY – 0.4%.
US futures are off small after the rally yesterday as the focus once again turns to even more new news about the virus. Dow futures are -45 pts, S&P's are -4, Nasdaq is +3 and the Russell is -6 pts. Recall the bank stress test results last week? So after the bell yesterday – WFC announced that they are slashing their dividend in the 3rd qtr to comply with the test results (apparently they didn't make the grade), while BAC, JPM, GS and C are holding steady with their dividends – suggesting that they did make the grade. Additionally, after the bell – NJ Governor Philly Murphy is delaying the resumption of indoor dining because NJ residents and businesses have not been adhering to the guidelines… so they are hitting the pause button. And in a move to follow suit – NY's Cuomo is considering that as well. Sit tight – the news today is back to the virus… so all of that housing stuff and 737 Max flights is but a distant memory.
Today Fed Chair Jay Powell and Treasury Secretary Stevie Mnuchin to Capitol Hill to testify in front of House Financial Services Committee.
Oil – like the rest of the market rallied hard yesterday – closing the day at $39.70 – up nearly $2 as all of that good news suggests demand is alive and well… Stick with me kid… I won't let you down… Oil isn't going anywhere – we remain in the $35.70/$45 range.
S&P closed at 3053 after testing 3000 early yesterday… all the excitement took the S&P right back up through 3020 (support and now was resistance) to end the day solidly above that trendline – which once again makes it a support level… a level that I thought should hold… Remember – today is month end, qtr end and 6 month end for our economy – expect more window dressing as portfolio managers 'dress up their holdings' ahead of qtr end statements that will be going out next week. Earnings begin once again in just 10 days… so we get to go thru that again as companies try to manage expectations going into the balance of the year and into 2021… The Holidays are just 6 months away – so expect to hear more about what companies expect the holiday spending to be… I mean – you can't make this up.
Take good care
Kenneth Polcari
Chief Market Strategist, Consultant
kpolcari@slatestone.com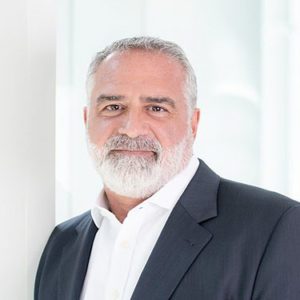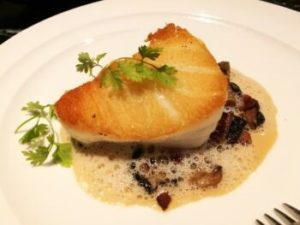 Roasted Sea Bass in a Marsala Wine Sauce
Sea bass is a fish that you find in cold waters of the southern Atlantic/Pacific and other Southern Oceans (Indian). It feeds mostly on squid, shrimps, and other small fish and for itself is the delight of Whales, Elephant Seals and Octopus… You can find this fish around the world called by different names – Chilean Sea Bass in the US, Mero in Chile and Japan, and Merluza Negra in Argentina and Uruguay. It is a white flaky fish that is easy to prepare and can be combined with many ingredients to make the perfect presentation. Today's meal is a roasted sea bass on a bed of Onions/Mushrooms
You will need: 1 lb of sea bass, olive oil, butter, onion, Marsala Wine, Fresh wild mushrooms, Chicken stock, s&p, and chopped parsley for color.
Prepare by chopping the onion, slicing the mushrooms and chopping the parsley. Have all other ingredients out on the counter to ease the process of creating this dish…
Preheat the oven to 450 degrees – Do not put the fish in the oven until it has pre-heated to the proper temperature.
In a sauté pan – heat the olive oil and the chopped onion – cook until soft and translucent. Turn the heat to high to make the pan really hot – then remove the pan from heat and Deglaze with 1/4 cup or so of Marsala Wine – you can use White wine if you prefer – but you will get a different flavor – just fyi.  (I say remove the pan from the heat because if you use Marsala, the flame can easily ignite the wine and singe your face – reg white wine – no worries) When the wine has cooked off add the sliced mushrooms and about a tblsp of butter. Reduce heat to med and cook until tender.
Now add the chicken stock – maybe 1/2 cup or so… and s&p… let it cook down… just so it thickens a bit…
In another sauté pan heat up a bit more olive oil…season the sea bass with s&p and add to the pan skin side down for about 5 mins… you want the skin to be crispy… flip and cook for about 1 min – transfer to a baking dish and put in the pre-heated oven and roast for another 4 / 5 mins.
Warm the serving dishes and place a bed of the onion/mushroom mixture on the plate and then top with the pan roasted filet. Adorn with a bit of chopped parsley. You can serve this dish with herb/garlic wild rice and sautéed green beans. Complement with a chilled bottle of your favorite Verdicchio, light the candles, turn down the lights… and you are off to the races… like putty in your hands.
Buon Appetito.