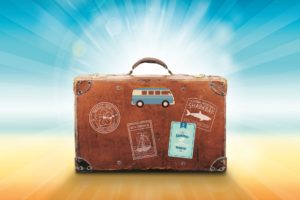 Things you need to know:
Markets continue to convulse as they look for anything to hold onto
Airlines and Autos Surge as the US wakes up causing oil stocks to jump
Communication names enjoying the new workspace too
Cybersecurity companies are moving to center stage to protect the masses
Try the Mussels Triestino
Stocks rose yesterday – with the Dow adding 369 pts or 1.5%, the S&P adding 49 pts or 1.6%, the Nasdaq surging by 191 pts or 2.08% and the Russell – once again the outperformer soaring by 40 pts or 3%.  Now – you ask why does the Russell outperform in either direction – meaning it outpaces on the way up and it outpaces on the way down?  And that is because it is a small/midcap index – one that represents mostly US centric companies that are MORE sensitive to the US economy – capisce?  So yesterday's 3% move up suggests that investors (or the algos) that are playing in those names believe that the US economy is on the mend – conversely when the Russell was down 2%  (more than the others) on Tuesday – word was 'not so fast' and when the Russell was up 6% on Monday far outpacing the others – investors were led to believe that there was absolutely nothing to worry about – if the Moderna trial was real then the US (and the world) would return to normal – How's that working out?
Back to yesterday
The algo's quickly forgetting why they fell on Tuesday – which just goes to show you that they remain confused and controlled by the headlines from day to day…..….the dramatic moves (+/- 2% ,3% & 4%)  continue to reflect the uncertainty and the concern that the algo's have.  I mean – on Monday the market soars nearly 4% on news that the Moderna phase 1 trial test results were positive giving a huge boost to investor psyche – as the talk all day on Monday was about how a vaccine was within sight and that the world would return to normal vs. the current state of affairs…the algo's loved it and sent stocks surging…..and then as discussed – every other negative headline that has been weighing on the markets were suddenly not negative any more and somehow were turned on their heads and all viewed as positive….only adding to the day's excitement….
And then on Tuesday – that all changed – the whole positive vibe from Monday suddenly squashed – as a 'group of experts'- all unnamed – which is suspicious on a whole other level – came out and disputed the findings in a STATnews.com article –  completely calling out Moderna and the trial results as completely inconclusive and limited and all talk/no action….sending the market lower and turning all those negatives headlines that turned positive back to negative and boom – down we go….Now understand – the race is on for sure….whether its JNJ, MRK, PFE, AZN, ABT, LLY, MRNA or INO – there is a lot of money to be made – so the competition is quick to call out anything that a competitor uses to promote themselves – i.e. the latest move by the 'unnamed experts' that poo pooed the MRNA results….
Yesterday – no one even talked about Moderna and the human trial but they did talk about Inovio Pharma – INO –  (a little known bio-tech that I referred to yesterday morning) that said their 'experimental vaccine induced an immune response in mice and guinea pigs  which is good for mice and guinea pigs…as the broader talking heads focused on the 'prospects for economic recovery in the wake of the coronavirus pandemic' and that sent stocks soaring again….which is again confusing because there are so many outcomes for this recovery and none of the leading outcomes suggests anything that resembles a return to life as we knew it only 3 months ago….so why the excitement?
Because its all in the headlines…remember the 'smart logic algo's' scan and scrape the headlines from every possible source out there hoping to find an edge….so when the algos' find positive words they BUY (Monday) and when they find negative words they SELL (Tuesday) and this game of Mickey Mouse continues until the noise stops and the focus returns to the real macro data:  corporate news, profits, earnings, guidance, and new discoveries and disruptions that promise to change the world.
So yesterday was no different – all the talking heads and all the headlines pointed to positives vs. the negatives and boom….up we go….Airlines stealing the show –  surging DAL +4.5%, LUV +5.2%, UAL +5.1% as the CEO's got out in front of the cameras and told us all that bookings are surging, (Southwest announcing that bookings are outpacing cancellations)  people are travelling, planes are full causing load factors to go positive….(load factors speak to capacity utilizations of airplanes as well as trains and cruise ships and other forms of public transportation – but for some reason – it is only the airline industry that describes it in terms of load factors).  Additionally – those same stocks are up better than 35% since Warren revealed that he was out and that the future looked dim……just sayin'…..
Auto stocks – F +3%, GM +3%,  on the move – why?  Because the data reveals that people are returning to the dealerships and BUYING cars….which would suggest that if you buy a new car – you intend on driving it and if you do that – you need GAS and like planes that need gas as well – guess what else surged?  Yup – ENERGY!  And why?  Because as travel increases (and planes & autos are two of the first barometers that speak to renewed travel) – the demand for oil/gas is going to surge….hopefully that is not a surprise to anyone – and this sent the Energy ETF – XLE – up by 4%!  (It is up 74% since the March lows)  Imagine what happens when the world really wakes up  – do you think that demand is going to stall?
Communications stocks continued to move up with the XLC – communications ETF – surging by 3% as the world finds a new way to work using all forms of new communication to get that work done – the XLC has surged by 39% since the lows of March suggesting that investors believe the new work day looks different than the old.  Individual names in this ETF – FB, VZ, GOOG, TWTR, ACTV, NFLX, T, CMCSA, FOX, VIAB, etc…all adding to the excitement as the market surges.  And keep your eyes on Cybersecurity stocks as well…why?  Because at home networks and internet connections are not 'secure' like they are in offices – so cyber criminals are having a field day resulting in new opportunities for the security names….. –  so if  you just want exposure to the sector then the passive way to do this is via the HACK  ETF.  It is an ETF that focuses on cybersecurity firms…and this ETF is up 6% this week and up 48% since the selloff in March.
And this morning – guess what?  Stocks are under pressure….Why? The question really is – Why not?  Stocks have rebounded sharply – the Nasdaq is up 4.5% on the year and  within 2% of all time highs – yes that is what I said.  Now the S&P and the Dow are still off 8% and 13% ytd….but have made incredible moves in the past 7 weeks…..considering that the country is still mostly locked down and the economy has been brought to 'stall speed' sending millions to the unemployment roles and businesses to the junk yard…..Valuations have surged quite quickly on the hope that we will return to what we had in January – causing increased volatility and while I – like everyone – want to see that return to normal – normal is no longer what we remember – and that will continue to cause the market to have these fits and starts over the next 6 months or so….Will a vaccine help?  Of course, will re-opening help?  Yes.  Will a drop in new infections and deaths also provide some excitement – absolutely – but the medical community is preparing us for a new round of infections come the fall with no insight as to when we will get a treatment never mind a vaccine – So do not expect that the path ahead is going to be smooth….but that does not mean you should abandon the plan…..
As of 6 am – Dow futures are down by 180 pts or 0.8%, the S&P is off by 22 or 0.75%, the Nasdaq is lower by 62 pts or 0.6%  and the Russell is off by 15 pts or 1%!  See what I mean – the Russell is 'outperforming' its breathren – except this time it is outperforming lower vs. higher – refer to the description of this phenomenon in paragraph 1.
Eco data today includes – Initial Jobless Claims and the expectation is for another 2.4 mil to report to the unemployment roles and 24.5 mil in the Continuing Claims aisle.   We are also due to get Markit Services PMI and Manufacturing PMI – exp of 32.3 and 39 respectively – and these are still well  into CONTRACTION territory – but we know that.  Existing home sales are expected to drop by 20% – a number that is sure to change as city folk look to move out to the suburbs attempting to get away from the density and angst in the cities.
In Europe – markets are lower………IHS Markit Eurozone PMI data reveals that economic activity across the region contracted 'less than expected' – coming in at 30.5 – as many of those countries begin to wake up – but continues to remain well below the neutral line at 50.  And the WHO (World Health Org) reported that the number of newly reported cases surged to a new daily record this week – word that South America is beginning to experience the virus now that summer turns to winter in the lower hemisphere is sure to set off another new wave of global concerns.  FTSE -0.83%, CAC 40 -0.99%, DAX -1.32%, EUROSTOXX -1.17%, SPAIN -0.05% and ITALY -0.51.%.
Oil is up 2.2% at $34.23/barrel…. as expectations rise over the coming demand  for oil – resulting in another surge in prices – demand will quickly outstrip supply once the world wakes up…..Oil remains above that 50 dma trendline at $25 and decisively above the psychological $30 mark.  Next stop for oil is trendline resistance at $39.15.
The S&P closed at 2971 inching ever closer to the century mark of 3000.  As the rally continues…2 steps forward, 1 step back – we are less than 1% away from kissing S&P 3000 – but question is – what happens when we kiss her?  Will she reject us or not?  Will she push back and say 'not so fast big boy'  or will she welcome the advance offering little to no resistance?   I  suspect that when we do kiss she will turn us away…as there are too many questions left unanswered….reminding us all of being a teenager once again!
Take good care.
Kenneth Polcari
Chief Market Strategist, Consultant
kpolcari@slatestone.com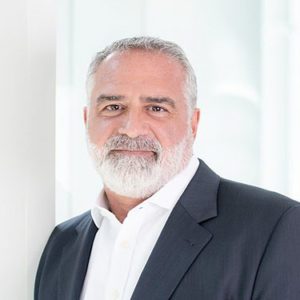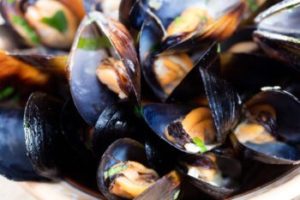 Mussels Triestino
Trieste is a seaport in the North eastern part of Italy on the Gulf of Trieste…. – way at the top. It borders the Adriatic Sea on one side, the country of Slovenia to the north…its history and culture have been impacted by Austrian, Hungarian, German and Latin influences.  It is the capital of one of the 20 regions in Italy – Friuli-Venezia Giulia.  At one point it was the 4th largest city of the Austro-Hungarian empire and was known for its contribution to literature and music.  After WW 1 and the collapse of the Austro-Hungarian empire – Trieste partnered up with Italy….and today is capital to one of the richest regions in that country.
Mussels prepared Trieste style are easy to make and easy to eat.
You need: Mussels….2 doz… thoroughly washed of any sand.  White wine, Clam juice, garlic, slice onion, olive oil, s&p, Fresh Bay Leaves and Toasted Italian seasoned breadcrumbs….
In a pot – heat the olive oil and sauté the garlic, add the onion and continue to sauté. – do not burn.
Add 1 1/2 c of dry white wine – nothing fruity – stir and let come to a boil –
Add the small bottle of clam juice and fresh bay leaves.  Season with s&p. Turn heat down to simmer.  Now add the mussels to the pot and cover tightly.  Cook until the shells open – should be maybe 5 to 8 mins more…. Discard any mussel that refuses to open.  Now add a couple of handfuls of seasoned bread crumbs and toss well so that the breadcrumbs mix with the wine and juice to create a thickened sauce…. You do not want too much breadcrumbs – so add one handful and then decide…depends on the quantity of mussels you are making…capisce?
Again – set the outdoor table with place mats, linen napkins and wine glasses.  Turn on Andrea Bocelli – which you can find on Pandora – and let it go…. light the candles and enjoy the night – Hopefully there is a full moon to help set the mood.    Present this dish in a large bowl with the mussels bathing in the sauce.  This dish demands toasted garlic bread to dip in the sauce while you feast on the mussels.  Serve this with a chilled white wine – maybe a Fallenghina works for you.
Buon Appetito.